March 3, 2020
Laptop Battery Health Report

If you feel that your battery is not what it used to be on your laptop, but not sure about the actual state. You can generate a report directly from your laptop in command prompt.
Press and hold Windows button + R
Type cmd and hit Enter
When the command prompt opens, type in powercfg /batteryreport
A report is then generated and saved in C:\Users\%Username%\battery-report.html
Open file in a web browser
You will get information such as serial number of battery, manufacturer of the battery and most importantly; Design Capacity and Full Charge Capacity, which will show you how many mWh (MegaWatt Hours) are left of the designed capacity.
An example from my battery:
| | |
| --- | --- |
| DESIGN CAPACITY | 38,152 mWh |
| FULL CHARGE CAPACITY | 34,267 mWh |
| CYCLE COUNT | 72 |
This shows that the designed battery capacity was 38.152 mWh, but a full charge now, only gives me 34.267 mWh, meaning the battery charge has decreased some, but not a lot. It's hard to say how much exactly you have lost, in for example, minutes you could have used the computer, since it all depends on how you use your computer when on battery.
The report will also show you a table of the battery usage during the last 3 days: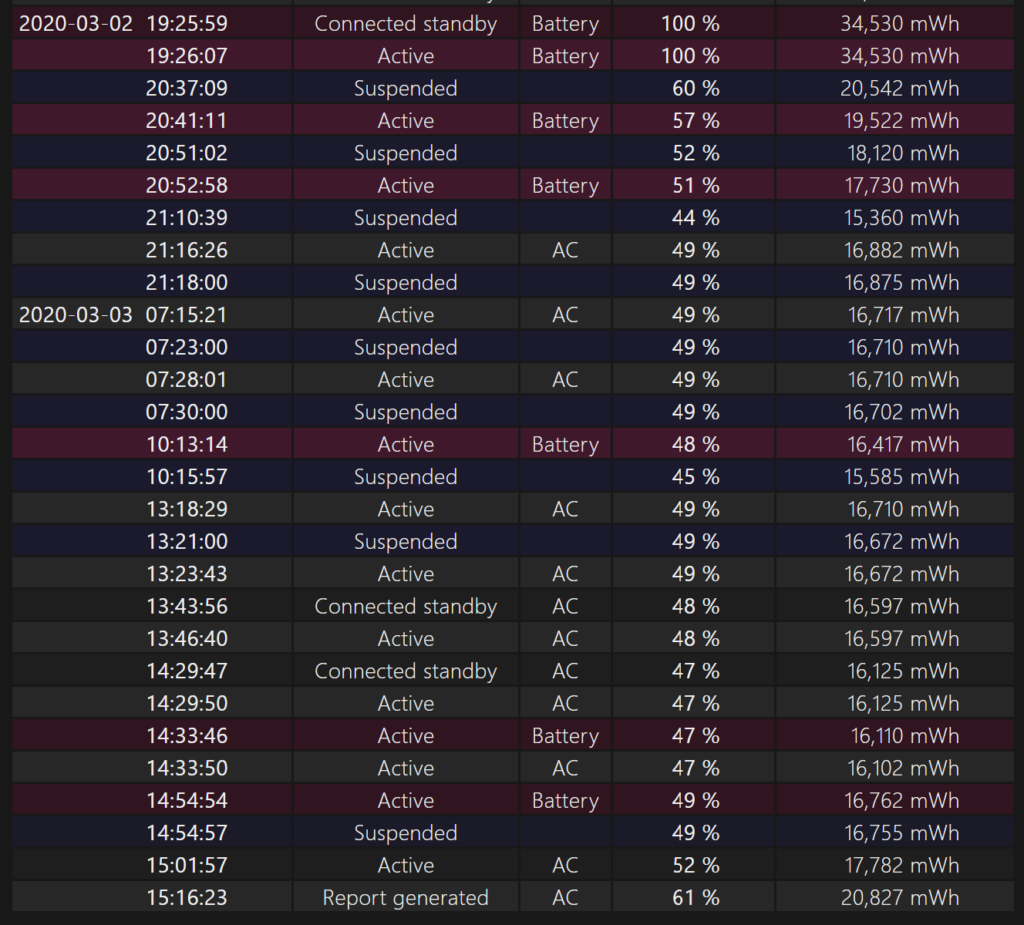 As this clearly shows, you can tell when the laptop has been using the battery, and at what percentage the power cord was plugged in. This could also come in handy to tell whether you have a charger with a loose connection, in the case where the laptop mostly received power but has tiny outages.
Another battery from a Lenovo Laptop showed:
| | |
| --- | --- |
| DESIGN CAPACITY | 26.330 mWh |
| FULL CHARGE CAPACITY | 18.900 mWh |
| CYCLE COUNT | – |
All in all, it's a great feature to keep track of the battery life in your laptop.
I hope it helped you out!
Peace!